Last week, our family had a mini-vacation. My husband was scheduled to attend the Developing Leader Conference in Bend from Tuesday to Friday; therefore, he wanted us to be close by (isn't he so sweet?). We drove to Sunriver on Saturday and stayed in a condo there for a week. He spent the first three days and as much time as possible on the last four days with us. We had fun sledding and cross-country skiing at the Wanoga Sno Park.
We hiked at the Smith Rock State Park. The view there was breathtaking. The pictures don't do it justice.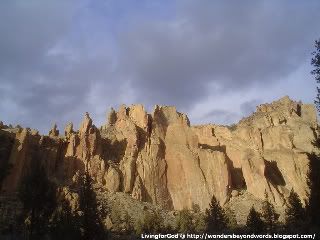 We visited Boyd Cave; we discovered that our 10 year old son had claustrophobia so we did not go too far into the cave. We also went to Tumalo Falls but we did not get to hike to the falls because it was snowing hard and the trail was all covered with deep snow. We decided to just hike up a snowy hill nearby instead. We had a great time feeding two Canadian geese at the Tumalo State Park. We also hiked at LaPine State Park to see the biggest ponderosa pine in the world, "Big Red" (about 500 years old). In the evenings at the condo, we enjoyed playing Sequence and Rummikub. It was a nice, relaxing break for all of us. We are glad to be back home though…until our next vacation
.
(I took tons of pictures during our vacation. However, the new memory stick that we bought during the vacation does not work with our computer. I cannot upload the pictures. Here I can only share some pictures that were taken earlier with the old memory stick.)