Yesterday was my 40th birthday. I had a wonderful, relaxing day filled with love (and chocolates, too
). I received lots of hugs and kisses. Several friends on Facebook and the Homeschool Lounge left me sweet birthday greetings. My 10 year old son played Chinese checkers, Mancala, and Battle ship with me. My 7 year old son nibbled a piece of ham into a heart shape for me (isn't that sweet?)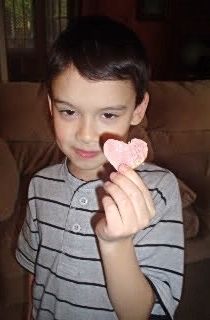 My daughter made me this beautiful ring.
My sweetheart gave me a gorgeous heart-shaped blue topaz pendant on a white gold necklace. I love heart-shaped stuff
. In the evening, we (the whole family) went to see A Christmas Carol (with a twist) performed by the international students at George Fox University's English Language Institute. Some of our Taiwanese friends were part of the cast. I enjoyed singing the Christmas songs they sang between scenes. We sang God Rest ye Merry Gentlemen, The First Noel, Angels From the Realms of Glory, Hark! The Herald Angels Sing, Away in a Manger, Silent Night! Holy Night!, O Little Town of Bethlehem, In the Bleak Mid-Winter, What Child is This?, It Came Upon a Midnight Clear, O Come, All Ye Faithful, Angels We Have Heard on High. We all had a great time.
I (okay not only for me) also was blessed to see the brightest, biggest moon of the year on my birthday
.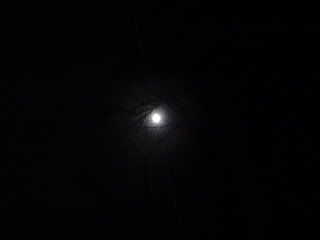 However, the more significant blessing to me was that the Lord kept my husband safe. Yesterday around 5:30 p.m., a bomb exploded in the city where he works. In fact, he was only 1 mile away when it happened. The sad thing is: the city's police chief whom my husband personally knows got hurt and is in critical condition; two police officers died…the wife of one works with my husband. Their families and the police chief are in our thoughts and prayers. This birthday is certainly an unforgettable one.