Last Thursday, my daughter,
Alyssa
, turned 16. The night before, I hijacked her blog,
Life of Faith
. I made some changes to her blog's template (Doesn't her blog look
sweet
?), wrote a
birthday post
on her blog listing 16 reasons why I think she is such a
sweet
and special daughter, and asked relatives and friends to leave comments for her. She was very pleasantly surprised!
On Friday, Alyssa's close friends came to have a sleepover at our home. My sister in law (Alyssa's aunt) also stayed overnight with us. We watched
Pride and Prejudice
(the short version). We laughed so much…you would think it's a comedy, not a drama
.
On Saturday, more relatives came to attend her
Sweet
Sixteen
Party. Games we played included:
Sweet
Target
(shooting a target using a potato gun (shoots out potato pellets)…aiming for #16 or a combination of numbers added up to 16 within 3 attempts),
Sweet
Soak
(relay game…the first person of each team walked to fill up a cup with water and walked back with a cup on his/her head…then dumped the water on the next person in line and gave the cup to that person…then this person repeated the same thing)
,
Sweet
Verses
(Each team had to put together puzzles which are 16 pieces of paper into 3 correct Bible verses containing the word "
sweet
" or "honey" (ex: Psalm 119:103, Ecclesiastes 5:12, Proverbs 13:19, 16:24, 24:14, 25:27), and
Sweet
Present
(we usually called it, "Hot Present" but I changed it to "
Sweet
Present" for this party
…I played the song,
Sweet
er Than Honey (Psalm 19:8-10) while the kids passed around the present that was wrapped in multi-layers. Each time I paused the music, the person who had the present read aloud a quote (containing the word "
sweet
") that I attached to the wrapper and ripped open that wrapper. When it got to the last wrapper, the person got to keep the present (which was
sweet
…chocolate)). After the games, we sang Happy Birthday to Alyssa and after my hubby gave thanks to the Lord for the blessed 16 years we've had with her, we all enjoyed the yummy Raspberry Swirl Cheesecake, the blueberry pie, the marionberry coffeecake, ice cream bars, ice cream sandwiches, ice cream sundae cones, snickerdoodle cookies, grapes, honey roasted peanuts, BBQ chips, Cheetos Puff, crackers and cheese. Then it was time to open presents.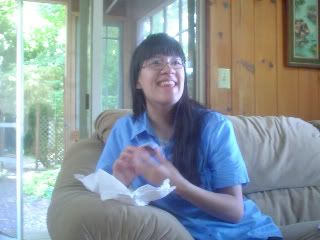 Alyssa received many thoughtful gifts such as cash (she's saving up to buy a laptop), colorful matching blanket and pillow, towel, lap desk, mug and notepad set. Her 10 year old brother gave her a rock with his writing, "Alyssa, You Rock". Her 7 year old brother gave her a button that on one side, he colored the picture of a frog (F.R.O.G. = Fully Rely On God) and has a mirror on the other side. My husband and I gave her a purity ring (I wrote her a poem to go with it), a book,
A Young Woman After God's Own Heart
by Elizabeth George,
Sweet
16 plaque (I arranged her favorite chocolate into the number 16), and some cash (to go toward the laptop). After the "official" party time, all the boys and my husband played basketball. Then we played Heart Attack (card game) and Whoonu. We gave out the goodie bags which were filled with 16 goodies. We had such a
sweet
time celebrating our
Sweet

ie
's
Sweet
Sixteen!