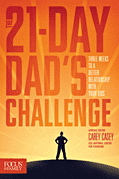 List Price: $13.99
ISBN: 978-1-58997-681-8
Trim Size: 5 1/2 x 8 1/4
Binding: Softcover
I have not seen
Courageous
yet, but I have heard positive reviews about it and can't wait to get its DVD.
Courageous
challenges men to be better fathers.
The 21-Day Dad's Challenge
aims to do the same. Because of their competitive nature, men enjoy challenges. This book offers 3 weeks worth of challenges for dads to develop better relationships with their kids. The challenges were written by well-known Christian men such as Josh McDowell, Jim Daly, Joe White, Jay Payleitner, Randy Alcorn, Tony Dungy, Shaun Alexander, Chip Ingram, Carey Casey (the general editor) and one woman.
The 21-Day Dad's Challenge
will inspire and equip men to build stronger bonds with their kids while having fun and instilling Godly values in them. I'm excited to be sharing all the practical tips in this book with my husband. It's helpful for moms, too :). Each chapter ends with "Your Challenge" and "Your Plan" (action steps). Some chapters also include a symbol/ code (that works with your smartphone) and a link to a video by Dr. Greg Smalley for bonus help/advice in taking that day's challenge. I really like these videos. You can join other fathers as they take the 21-Day Challenge
here
. Kids grow up so fast. Please do not take the gift of fatherhood for granted. No matter how old your child is, he/she would be thankful that you intentionally reach out to him/her with love. This resource is a wonderful parenting coach at your fingertips.
~ Tyndale House Publishers provided me with a complimentary copy of this book in exchange for my honest review.