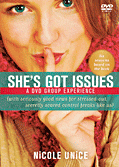 If you're honest, you will agree that we've all got issues. None of us is perfect. Sanctification is a life-time process. In this six-session teaching DVD based on her book (same title),
Nicole Unice
addresses six issues that most women struggle with: control, insecurity, comparison, fear, anger, and unforgiveness. I love Nicole's candid and casual approach. While I watched the DVD, I felt like I was being invited into her living room along with all the women there (on the screen) listening to her talk.
Each session starts with a conversation between Nicole and a different woman who is dealing with a different issue. After that, there is a pause for participants to write their thoughts in their journals. Next, Nicole teaches in a small group setting. She shares from her own experiences and she draws us to the Scriptures to find answers and encouragement. According to Nicole, you won't become issue-free after finishing the DVD but you will be closer to Jesus and learn to live victoriously in Him. I agree.
I highly recommend this Christ-centered, Biblically-sound DVD curriculum. It's an excellent tool for churches and women's groups. It includes leader's guide and participant's guide.
~ I received a free copy of this book and DVD from

Tyndale House Publishers

in exchange for my honest review.